1909 Alexander III Commemorative Egg
Gift Nicholas II to Maria Feodorovna
Made in Saint Petersburg
Owner: Egg is Lost or missing
Height: ca 9,5 cm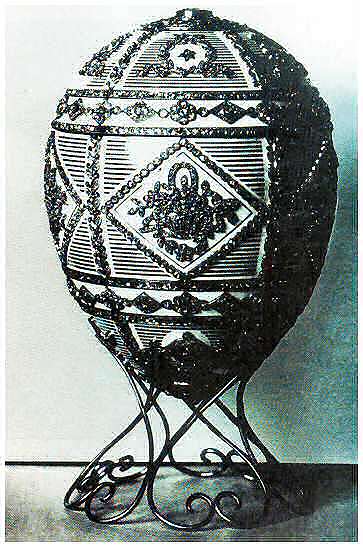 The Alexander III Commemorative Egg was made of platinum, gold, white matt enamel, rose-cut diamonds and portrait diamonds. The Surprise was a miniature bust, made of lapis lazuli, gold and rose-cut diamonds.
The platinum Egg is completely covered in matt white enamel with gold lines. Lozenge-shape diamond clusters are positioned around the middle of the Egg, each with diamond-set baskets, flowers and ribbons. Portrait diamonds are set at either end, no doubt covering the monogram of the Dowager Empress and the date. Within the Egg there was a miniature gold bust of Alexander III on a lapis lazuli pedestal.
Background information
The Alexander III commemorative Egg is only known through a black and white Fabergé photograph, unfortunately not showing the surprise. This Egg has been out of public view since before the October Revolution of 1917.

Next Egg

Previous Egg
Page updated: April 2, 2016