Gift Nicholas II to Maria Feodorovna
Made in Saint Petersburg
Owner: The Egg is missing or lost
Height: ca. 27,5 cm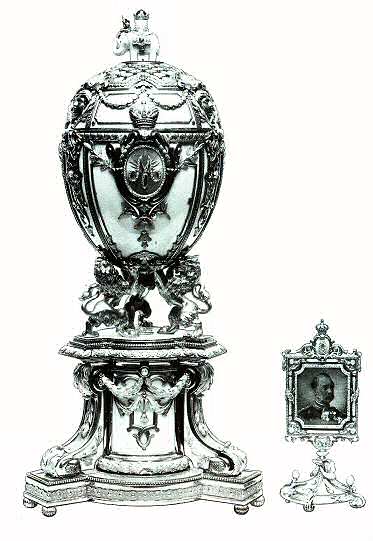 The 1903 Royal Danish Egg, also known as Danish Silver Jubilee Egg, is made of gold, light-blue and opalescent white enamel and probably watercolor on ivory. The Egg is, together with the 1909 Alexander III commemorative Egg, only known from an early photograph.
This gold Egg is surmounted by a Danish Royal Elephant and supported by three Danish heraldic lions. The Egg contains a double-sided miniature screen on a stand, showing portraits of King Christian IX on one side and Queen Louise on the other. Each miniature is surmounted by a diamond crown and initial.
This Egg is one of the 8 that disappeared but it is known by a description and drawings and other information in the collection of Fabergé expert Tatiana Fabergé. Amongst this information is a description of the Egg written by H.C. Bainbridge, the manager of the Fabergé-owned shop in London. His description was published by "The Connoisseur" magazine in June 1934:
"Miniatures of the late King of Denmark and his Queen are framed as the surprise feature in the Imperial egg. The outer surface is in light blue and white enamel with ornaments in gold and precious stones. On the top are the armorial bearings of the Danish Royal Family, and it is supported by Danish heraldic lions."
Background information
The Egg on its pedestal stand is over 9 inches in height, one of the largest that Fabergé made. It is crowned by the symbol of Denmark's ancient Order of the Elephant. Thought to have been founded by King Knut IV in the 12th century, the order was re-established by King Christian I in 1464.
When Britain 's Prince of Wales - the future King Edward IIV - married Denmark's Princess Alexandra - daughter of King Christian IX - the Order of the Elephant was awarded to several members of the British royal family. In Denmark it was the symbol of absolute rule. The icon was a castle on the back of an elephant. Astride the elephant is his mahout. It is interesting to note that this symbol was so successful for Fabergé that it was incorporated into many other objects d'art made by the workshops as well as in some other Eggs.
In 1903 the Dowager Empress Maria Feodorovna, born the Danish Princess Dagmar - the daughter of king Christian IX - returned to Denmark for the 40th Anniversary of her father's accession to the throne. The Egg that Tsar Nicholas presented to his Mother as her Easter gift in 1903 was a commemoration of that event and at he same time to commemorate the death of Queen Louise at Bernsdorff Castle, five years earlier. Her son Tsar Nicholas II wrote in a letter to her in Copenhagen: "I am sending you a Fabergé Easter present. I hope it will arrive safely; it simply opens from the top".
Maria's parents were very popular throughout Europe in those days. One of their daughters was Queen of England and the other Tsarina of Russia. Their son was the King of Greece and a grandson King of Norway!
The Royal Danish Egg presumably returned to Russia with Maria Feodorovna. However, if the Dowager Empress decided to leave it in Copenhagen, interesting possibilities as to its fate are opened up.
Update January 2018
Several times I have been asked why I only had a black and white image of this Egg on this page. This January I was sent a picture of the colored Egg and a quick Google-search learned me that there are hundreds, if not thousands of colored images on the net of socalled Danish Jubilee Eggs.
Alas, the answer is simple, all those colored images are images of a modern replica's, not made by Fabergé! The original 1903 Imperial Danish Egg or Danish Jubilee Egg is lost and all we have is an archival Fabergé photograph of what it looked like (see above).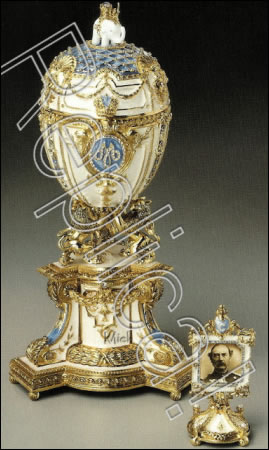 (Courtesy Max Haran Doyle)
Only when this missing Egg is found, we will finally know how the original 1903 Egg looks like in color!

Next Egg

Previous Egg
Page updated: January 23, 2018