Fabergé "Look-Alike" Eggs
From the minute I saw the Rothschild Fabergé Egg for the first time on October 4, 2007, on the Christie's website, it reminded me of the Kelch Chanticleer Egg. Just for fun I put them together on this page. The two could be brother and sister!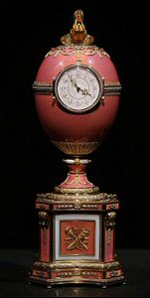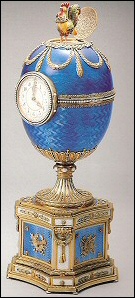 Left the Rothschild Egg, right the Chanticleer Egg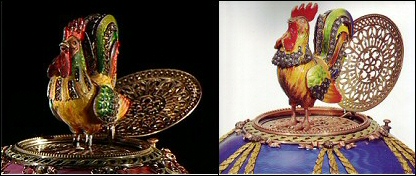 A very interesting article about the Rothschild Egg is written by Kieran McCarthy of Wartski in London and can be found on the Fabergé Research Site, Recent Discoveries.

There are 3 roosters now...
The Cuckoo Clock Egg (now called The Cockerel Egg), The Chanticleer Egg and The Rothschild Fabergé Egg. (The cuckoo was not a cuckoo after all, but a cockerel or rooster)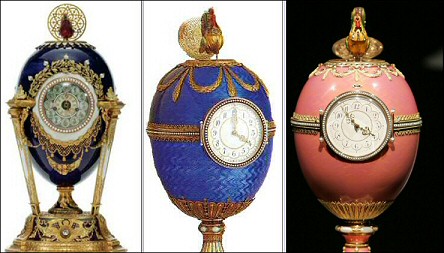 The Cockerel Egg, the Chanticleer Egg and the Rothschild Clock Egg
***
The 1895 Blue Serpent Clock Egg and the 1902 Duchess of Marlborough Egg are clearly family too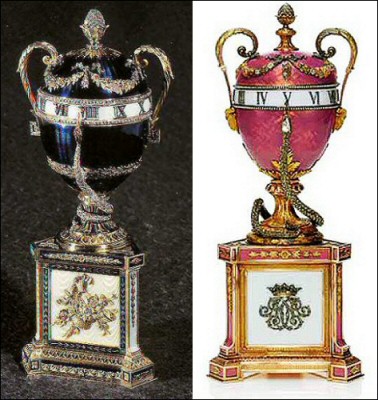 Left the Blue Serpent Egg, right the Duchess of Marlborough Egg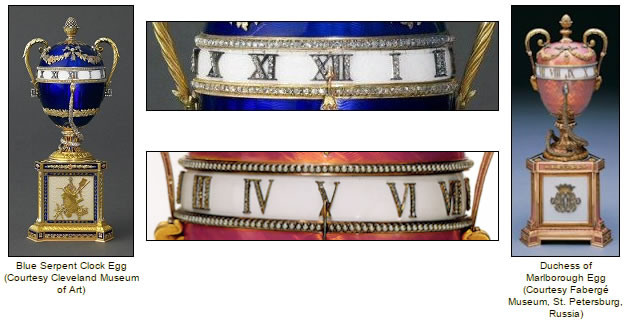 For the Fabergé Research Newsletter, egg section, the above image was made which compares the two clock Eggs and the two dials. Thank you Christel!
As these Eggs are all clocks, you might want to see the other clock Eggs too, click here to do so!
***
There are two more "Look-Alikes", the 1901 Gatchina Palace Egg and the 1903 Kelch Bonbonnière Egg. Both Eggs have surprises but the surprises do not look alike at all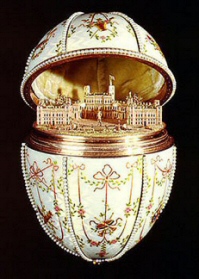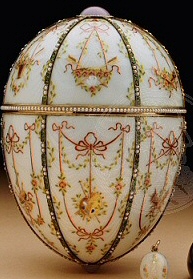 Left the Gatchina Palace Egg, right the Kelch Bonbonnière Egg

Back to The Eggs Categories

Back to The Eggs
Page updated: January 3, 2019