Fabergé in the 21st Century
Fabergé History Timeline 1918 - 1937 | The Family Fabergé - The Four Sons
Fabergé Today (1937 - 2006) | The Family Fabergé Today - Tatiana -Theo and Sarah Fabergé | Brand name Fabergé
Inspired by Fabergé The Vivian Alexander Collection™ | Objects worldwide inspired by Fabergé
Fabergé Egg in the News
Forgeries and Fakes - Fauxbergé Eggs
From left to right: BARBIE doll in a Renaissance Egg gown, ACTIF BRUT by Fabergé, the Pinecone Egg as Christmas ornament, glasses by Fabergé and Eggs. Fabergé in the 21st century!
This chapter will take you on a journey with Fabergé into our century. Here you can read what happened to the four living sons of Karl and Augusta Fabergé, what happened to the brand name Fabergé, and it will show you some examples of objects "inspired by Fabergé".
The English language has a beautiful saying: "Imitation is the sincerest form of flattering" and had he lived today, Peter Karl Fabergé would have felt himself enormously flattered, as his work is imitated throughout the whole world. Some copies are beautiful, some are not, but the fact is that the name Fabergé is alive in the 21st century. But first back to history for without history there would be no today!
Fabergé History
(For the years before 1918: See "Timeline Fabergé and Romanov Russia" starting in the year 1613)
1918 - All materials and workshops were nationalized by the new Bolshevik government. Karl Fabergé, his wife and their two sons, Eugène and Alexander fled Russia, as well as many of his best workmen. Agathon remained in St. Petersburg to do some final work but was taken prisoner. Son Nicholas was in England during the Revolution and remained there.
1920 - 24 September: Karl Fabergé dies in Lausanne, Switzerland. Augusta Fabergé dies on 27 January 1925. Both are buried in the same grave in Cannes, France.
| | | |
| --- | --- | --- |
| Peter Karl Fabergé | Original Fabergé Renaissance Egg | Grave of Karl and Augusta Fabergé in Cannes |
1921 - Agathon is released from prison to work under the Soviets on the Romanov jewels but later escapes from Russia and settles in Finland where he is a well-known philatelist.
1924 - Sons Eugène and Alexander started the firm "Fabergé et Cie" in Paris where they attempted to repair valuable Fabergé pieces made in the Russian workshops of their father and they try to revive the name and fame of Fabergé. However, the Paris branch cannot reach the same level as in the old days. They are lacking specialized workmen and have to compete with the French jeweler Cartier whose star is rising quickly during those days. Realizing that many of their former clientele lost their fortunes during the depression, it is clear now that a new House of Fabergé was sadly beyond reality at that time.
1937 - The name "Fabergé Inc" is registered in the United States by an American businessman who is familiar with the works of Peter Karl Fabergé. It is only after World War II that Eugène and Alexander Fabergé running the small workshop "Fabergé et Cie" in Paris learn about this. Their attempts to sue are not successful. They do not have the money to hire American lawyers. In the end they agree to a settlement. The name Fabergé was later sold to Unilever, who had the rights to the brand name Fabergé until the beginning of 2007.
The Family Fabergé - The Four Sons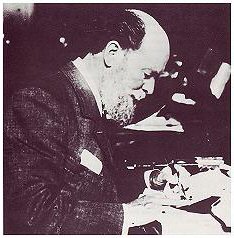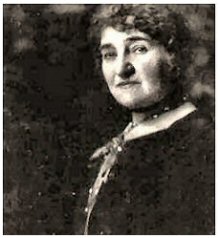 Karl and Augusta Fabergé (pictured above) were blessed not with four, but with five sons in St. Petersburg:
Their fourth son, Nicholai died at the age of two. Tradition in Russia in those days was that after the death of a child, when another child of the same gender is born, it was given the name of the deceased child. As the name Nicholai reminded them too much of the first Nicholai, the new baby was called Nicholas.
Eugène
Together with his brother Alexander, Eugène settled in Paris in 1924. Eugène died in 1960, leaving no children. No further info on Eugène exists, alas, only the photograph taken in Lausanne shortly before the death of Karl Fabergé.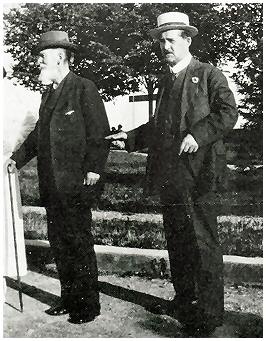 Eugène Fabergé right, together with his father Karl.
Agathon
Karl's second son Agathon settled in Finland. He became a well-known specialist on revenue stamps and his collection is world-famous. Agathon's first wife and her five sons settled in Switzerland, where she had a guesthouse, and later a chicken farm. Two of their sons, Agathon and Peter, immigrated to Brazil. Agathon's third son, Theodore, worked for his uncles in Paris and then returned to work for a jeweller in Geneva; he died in 1971 leaving a daughter Tatiana born in 1930. She lives in France and is writing a family history. The fourth son Igor made jewellery also. He died childless in 1982 and the fifth son, Rurik, also died childless in 1978.
Agathon died in Helsinki and is buried there, together with his second wife Maria and their son Oleg. The monument on his grave is decorated with an Egg.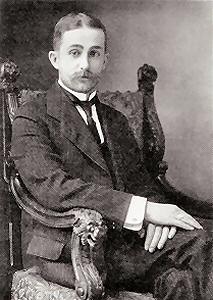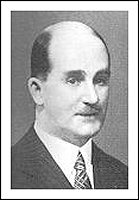 Agathon Fabergé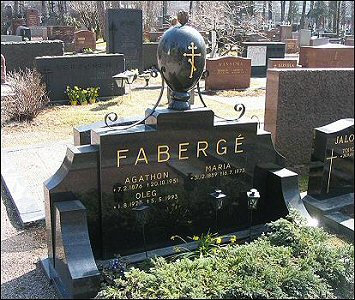 Agathon's grave in Helsinki

Alexander
By his first marriage Alexander had a son who was also named Alexander; that Alexander pursued a distinguished career as a geneticist and died childless in the United States in 1988. There is no more info on Alexander at this time, only a vague photograph taken in the St. Petersburg workshop. Alexander is the one standing on the left in the back.
| | | |
| --- | --- | --- |
| | | |
| Nicholas Fabergé | | Left rear Alexander Fabergé and right, looking at maps, is Eugène Fabergé. |
Nicholas
Nicolas Fabergé (pictured above), Karl's fourth surviving son, was in England at the time of the Russian Revolution and he stayed in England. He established himself as a photographer. Married to Marion Tattershall who bore him no children, he had a relationship with his photographic model Dorise Cladish. She and Nicholas Fabergé had a son Theo, christened and named Theo Fabergé by his father in 1922.
The Fabergé Family Today
Several descendants of Karl and Augusta Fabergé are alive today. Unfortunately I only have some information on Tatiana Fabergé and Theo Fabergé. More information is most welcome! (Email)
Tatiana Fabergé (1930 - 2020)
Tatiana Fabergé, granddaughter of Agathon, great-granddaughter of Peter Karl Fabergé, lives in France and is working on the family history. She is an expert on Fabergé and has co-authored several books on Fabergé. In the pictures below left Tatiana Faberge in 2001 holding an egg reproduction, at the Neiman Marcus store in the USA, and right Tatiana Fabergé in December 2005 autographing reproductions in Zell Bros. in Portland, Oregon, USA.
October 2007 Tatiana Fabergé joined the Pallinghurst group Fabergé Ltd. as specialist on Fabergé style and history. The Pallinghurst Group acquired the brand name Fabergé in january 2007. "I've dreamed of this moment for decades,'' said Tatiana Faberge, 77, the great-granddaughter of Carl Faberge, who is also an acclaimed Faberge author and lecturer living in France just across the border from Geneva. "It's been my life's ambition to restore the unsurpassed standards of design and workmanship that characterized my great-grandfather's treasures.'' (Source: Fabergé Ltd Press Release).
On February 13, 2020, Tatiana Fabergé died in her home in Geneva, three weeks before her 90th birthday.
Tatiana Fedorovna Fabergé
Read about Theo, grandson of Peter Karl Fabergé on the next page. There you will also meet Theo's daughter Sarah Fabergé and see some of the objects they made for the St. Petersburg Collection!



Left Theo Fabergé and his daughter Sarah. Right Theo's St. Petersburg Collection Peter the Great Egg

Updated or corrected: Februari 15, 2020