Famous and not so Famous Fabergé Egg Collectors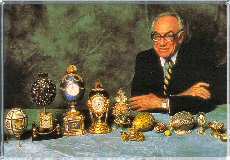 Click to enlarge
Above. Mr. Forbes with his eleven Fabergé Eggs which were at the time of purchase all thought to be Imperial Eggs. Today the Spring Flowers Egg and the Resurrection Egg are no longer in the so-called Imperial category.
Malcolm Stevenson Forbes | Victor Vekselberg | Lillian Thomas Pratt | The Royal Collection | Matilda Geddings Gray | Marjorie Merriweather Post | William and Henry Walters | King Farouk of Egypt | Edouard and Maurice Sandoz | India Early Minshall | Prince Albert II de Monaco | Artie and Dorothy McFerrin | Armand Hammer | Emanuel Snowman
Malcolm Stevenson Forbes
(1919-1990)
Malcolm S. Forbes was born on August 19th, 1919 in Brooklyn, New York. In 1946 Malcolm Forbes joined his father at Forbes Magazine. He became publisher of the magazine on his fathers death (1954).
Malcolm Forbes' first major acquisition of Fabergé was the Duchess of Marlborough Egg in 1965. Purchased through auction, it cost nearly three and a half times the estimate. Malcolm was torn between the thrill of acquiring the spectacular piece and the fear of having overbid due to auction fever. However, his worries were quickly alleviated when Alexander Schaffer, the leading authority on Fabergé in the U.S. at the time, identified himself as the underbidder and invited Malcolm to view several Fabergé Imperial Easter Eggs in his possession. Proving to be a serious collector, Malcolm Forbes acquired the 1911 Bay Tree Egg, the 1894 Renaissance Egg and the 1911 Fifteenth Anniversary Egg by the end of the following year.

In 1990 Forbes participated in an unprecedented exhibition, titled "Fabergé, The Imperial Eggs," by loaning nine Easter eggs to the Armoury Kremlin in Moscow. This show represented a rare and important opportunity to reunite the largest number of Imperial eggs since the confiscation of the royal family's property in 1917. After Malcolm's untimely death later that same year, the collection came under the stewardship of his sons, Steve, Bob, Christopher and Tim.

The Forbes Collection was sold in February 2004 to Russian Businessman Victor Vekselberg. The Forbes family commented on the private sale to Mr. Victor Vekselberg, stating: "Over eighty years ago, Fabergé's dazzling Imperial Easter Eggs and other treasures were dispersed throughout the world. Our father spent decades passionately bringing many of them together again. Among his greatest pleasures was sharing this collection both at the Forbes Galleries and in exhibitions around the world. The family is delighted that the advent of a new era in Russia has made possible the return of these extraordinary objects. It is an astonishingly romantic ending to one of the great stories in art history."

top
Victor Vekselberg Russia
(1957-)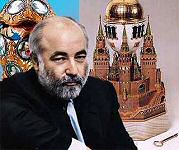 Mr. Vekselberg bought 194 Fabergé pieces from the Forbes family, including all Fabergé Eggs with the exception of the Nobel Ice Egg that being sold, was not longer part of the Forbes' collection.
Victor Vekselberg was born in 1957 in the Western Ukraine. He graduated from the Moscow Transportation Engineering Institute in 1979. In 1993, he became Chairman of the Board of Directors of Renova, one of Russia's most progressive investment and business development companies.
In 1996 he engineered the first interregional merger in the Russian metals industry, Siberian-Urals Aluminium Company (SUAL), where he remains Chairman of the Board of Directors.
In 1997 he was key in building a Russian-United States partnership that acquired the controlling rights to Tyumen Oil Company (TNK), which soon became the third largest Russian oil and gas company. Acting as Chairman of the Executive Board of TNK, he was instrumental in negotiating and establishing a 50-50 joint venture with British Petroleum in the largest private transaction in Russian history. He is currently a member of the Board of Directors and the Vice-President of the joint venture called TNK-BP. According to Forbes Magazine, Mr. Vekselberg is considered by one of the richest men in Russia.

top

Lillian Thomas Pratt
(1932-1947)
Lillian Thomas Pratt, the wife of General Motors executive John Lee Pratt. She formed her collection - ranging from her well-known jeweled imperial eggs to a humble copper ashtray made just before the Russian revolution - between 1933 and 1946. Lillian Thomas Pratt collected the 1896 Revolving Miniatures Egg, the 1898 Pelican Egg, the 1903 Peter the Great Egg, the 1912 Tsarevich Egg and the 1915 Red Cross with Portraits Egg.
Virginia Museum of Fine Arts Factsheet: (Link no longer valid)
The Lillian Thomas Pratt Collection of Russian Imperial Jewels by Peter Carl Fabergé. The Virginia Museum of Fine Arts' Pratt collection is the largest public collection of Fabergé imperial Easter eggs outside Russia. The full Pratt collection numbers approximately 150 creations from the Fabergé workshops.
The collection was formed between 1933 and 1946 by Lillian Thomas Pratt of Fredericksburg, Va., the wife of General Motors executive John Lee Pratt. In 1947 she bequeathed several hundred pieces of Russian art, many from the Fabergé workshops, to VMFA.

See also the website of the Virginia Museum of Fine Arts


top
The Royal Collection
Queen Mary, (1867-1953), Queen Elizabeth (1900 -2002), Queen Elizabeth II (1926- )
Read all there is about the British Royal Family in Wikipedia
Images, including the Fabergé Eggs, of The Royal Collection can be seen in the e-Gallery online:
http://www.royalcollection.org.uk/egallery/

top
Matilda Geddings Gray
(† 1971)
The Matilda Geddings Gray Foundation
New Orleans Museum of Art

top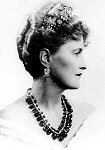 Marjorie Merriweather Post
(1887 - 1973)
Marjorie Merriweather Post was the founder of General Foods, Inc. She was 27 when her father died, and she became the owner of the rapidly growing Postum Cereal Company. In 1923 her husband E.F. Hutton became the chairman of the board of the Postum Cereal Company, and they developed a larger variety of food products, including Birdseye Frozen Foods. The company became the General Foods Corporation. Marjorie Merriweather Post collected the 1896 Twelve Monogram Egg and the 1914 Catherine the Great Egg.


top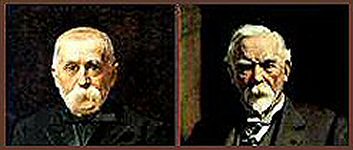 William (1819-1894) and Henry Walters (1848-1931)
Henry Walters, like his father William Walters, was a power in the railroad world. In 1884, Atlantic Coast Line directors named him general manager, but in 1902, he would add the titles, Vice-President and Chairman of the Board, positions he would keep until 1931. Not only would be prove himself to be one of the nation's most proficient executives, smoothly merging 32 separate railroads into one, but he was also a world renowned art collector.
His father, William Walters, having made money in the liquor business, began shopping for art, usually accompanied by his wife, Ellen. Sadly Ellen died while they were in Paris, but William Walters continued his artistic pursuits. Henry, a teenager, and his sister, Jennie, spent their days in Parisian schools, then came home to another kind of education in fine paintings, sculpture, tapestries and furnishings. Watching his father create an art collection lit a fire inside the young man that never went out, and created a bond between William and Henry Walters. As an adult, Henry continued to follow the trail of acquirable fine art, buying pieces that would be displayed in the art gallery in Baltimore.
In New York, beginning in 1903, Henry Walters served on the executive committee of the Metropolitan Museum of Art, and 10 years later he became second vice president, a position he retained for the rest of his life. His experiences on a number of museum committees may have resulted in a change of direction in his collecting after World War I. Walters now appeared less concerned with acquiring works representative of various fields and more committed to objects of major historical and artistic significance.

Henry soon had the site of three buildings he had purchased in 1900 transformed in to a palazzo-like building, which opened to the public in 1909. He died in 1931, bequeathing the building and its contents to the mayor and city council of Baltimore "for the benefit of the public."
Website: The Walters Art Museum
The Walters Art Museum Fact Sheet: (Link no longer valid)

top
King Farouk I of Egypt, who reigned from 1936 until 1952, was a prolific collector. His taste for the rare and unusual was the catalyst for his assemblage of a diverse collection of items from around the world. His coin collection included an estimated 8,500 gold coins and medals. King Farouk's possessions when he abdicated were compared to the contents of Versailles in 1793!
After World War II, Egypt was left in chaos, especially following its defeat in the 1948 war with Israel. The Free Officers (a group of dissident military officers), led by Abdel Nasser, overthrew British-backed King Farouk on the 23rd of July, 1952 (an event now named the Revolution of 1952). Three days later, the king officially abdicated and the first independent Arab Republic of Egypt was formed. After the Egyptian military forced King Farouk to flee the country in 1952, the entire Farouk Collection was auctioned by Sotheby's Cairo.
The new Egyptian government complained to Sotheby's that the prices were poor. But Farouk had collected so much, including Fabergé work of various kinds, that single lots often contained up to three pieces. It took days and days to sell it all. The two Farouk eggs, the 1906 Imperial Swan Egg and the 1898 Kelch Hen Egg brought relatively healthy prices.
Farouk, the last king of Egypt, lived thirteen years after he was deposed. He died in 1965 in Rome and was buried in the mosque Ar-Rifai, in Cairo, Egypt.

top
Edouard and Maurice Sandoz Foundation
Edouard-Marcel Sandoz (1881-1971)
Maurice-Yves Sandoz (1892-1958)
Fondation Edouard et Maurice Sandoz
http://www.fems.ch/en/site/mysandoz/collection

top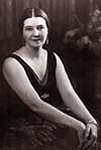 India Early Minshall
India Early Minshall was one of the five major Fabergé collectors in the 1930's. She acquired the Lapis Lazuli Egg and the 1915 Imperial Red Cross Triptych Egg. India Early Minshall (1885–1965) was born in Columbus, Ohio. In 1906 she married Thaddeus Ellis Minshall, who became a financially successful businessman. By 1920 the Minshalls had moved to Cleveland, where Mr. Minshall founded the Pocahontas Oil Company. He sold the company in 1928 and died in 1930.
Both the Minshalls were interested in pre-revolutionary Russian history and artifacts and amassed a library devoted to these subjects. However, it wasn't until Mr. Minshall's death that India began collecting Russian art and objects. Her first Fabergé object, a rhodonite clock, was purchased in 1937 for $250.00 from Hammer Galleries in New York. She continued to collect Russian art and artifacts, including a Fabergé enamel tea service.
In March 1943, she purchased the famed Imperial Red Cross Egg for $4,400.00.3 Mrs. Minshall continued to collect Fabergé, buying from the Hammer Galleries and A La Vieille Russie, both in New York City. She eventually acquired eighteen Fabergé objects including a green jade presentation box and several flower and animal pieces. Mrs. Minshall continued to purchase Fabergé objects until 1961. She died in 1965. (Text source and read more)

top
Albert II, Prince of Monaco
(1958 - )


Albert II, Prince of Monaco (Albert Alexandre Louis Pierre Grimaldi, Count of Polignac), styled His Serene Highness. The Sovereign Prince of Monaco, is the head of the House of Grimaldi and the current ruler of the Principality of Monaco. He is the son of Rainier III, Prince of Monaco and Grace, Princess of Monaco. Born in the Prince's Palace of Monaco on 14 March 1958. Read more in Wikipedia.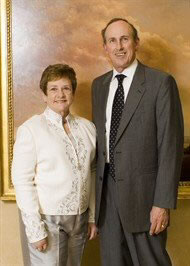 Dorothy and Artie McFerrin - USA -
Photograph courtesy and little more info
(Above link no longer valid)



First Exhibit of the McFerrin Collection 2009 - 2010. Opening February 1, 2013 Houton, Texas, US,
Fabergé: A Brilliant Vision. Read More!

top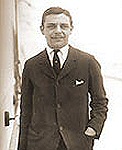 Armand Hammer (1898-1990) - Acquiered 10 Imperial Eggs from the Soviet Union










The man who managed to get most of the Fabergé Eggs was a man who was well known in the United States, Armand Hammer. A great entrepreneur, president of Occidental Petroleum and personal friend of Lenin, his father was founder of the Communist party in the United States.
Recognizing that the treasures of a dynasty were being swept into oblivion, the eminent businessman and socialist sympathizer brought ten* of the Eggs to America in the early 1930's. Hammer set up business and heavily marketed and promoted the sale of these riches, but during the Depression years, even the most stable American fortunes had faltered. A friend of Hammer's ironically observed that while the Fabergé Eggs were indisputably beautiful, they were not, in fact, edible.
Hammer arrived in New York in 1931 with thousands of Russian works of art to be sold on behalf of the Soviets. At the time there was no money (deepest Depression) nobody was interested, until he struck on the idea of marketing these things through department stores. And he took them through North America , from the East coast to the West coast, stopping at department stores in every major city and touting these things, lecturing about how he discovered these things. And they caught on!
There were five major collectors in the early days in the United States: Matilda Geddings Gray, Lillian Thomas Pratt, Marjorie Merriweather Post, India Early Minshall and Malcolm S. Forbes. Though some Imperial Eggs originally sold at auction for as little as four or five hundred dollars, it took several decades for the Eggs to gain recognition as magnificent works of art. Now they are valued in the millions.
* A number of eleven Eggs is mentioned in several sources, but what Hammer presented as the 1885 First Imperial Hen Egg, later became known as an Egg with probably German origin. Hammer sold this Egg in ca. 1957 to Matilda Geddings Gray, who until her death did not accept the view that her Egg was not the original Fabergé 1885 First Egg. [Keefe, J.J., Masterworks of Fabergé. The Matilda Geddings Gray Foundation Collection, 2008, 166]



Emanuel Snowman (1886 - 1970) - Acquiered 9 Imperial Eggs from the Soviet Union









Emanuel Snowman in Wiki:
Emanuel Snowman OBE MVO (25 January 1886 – 27 February 1970) was a British jeweller, local politician and Jewish community leader. He oversaw the opening of the London branch in 1911, of the Llandudno jewellers Wartski, having married the daughter of its founder, Morris Wartski, and went on to become its chairman.
Emanuel Snowman was born in Hampstead, London, the son of Abraham Snowman (1849–1918), a picture dealer, and his wife Rachel, both of whom were born in Poland. Whilst under the management of Snowman, Wartski received several Royal warrants, and Queen Mary was a regular customer.
From 1925, Snowman made regular visits to Russia. He often travelled with Armand Hammer and they both established good relations with the Soviet authorities, allowing Snowman to obtain many exceptional works of art, including nine Fabergé eggs, intended for resale in London, which he acquired between 1925 and 1938.
His son Kenneth Snowman (1919–2002) in turn became chairman of Wartski, as has his son, Nicholas Snowman (born 1944).
Both Armand Hammer and Emanuel Snowman handled other Fabergé Imperial Easter Eggs too, but the Eggs shown above were, as far as I know, aquired by them directly from the Soviet Union.

top

Index
Page updated: 2019-01-07